Premium Electric Drill Metal Cutter
Regular price
$89.00 USD
Sale price
$45.95 USD
Unit price
per
Sale
Sold out
Easily Transform Your Power Drill Into An Effective Sheet Metal Cutter With This Metal Nibbler Drill Attachment.
Excellent Cutting Effect
Double Cutting Head And 360°Straight And Circle Cutting, you can also effortlessly cut beautifully. Smooth shearing effect without burrs.
Wide Usage And Application
The Versatile Sheet Metal Nibbler, Perfect For Car And House Maintenance Like Metal Roof Cutting, HVAC Vent Pipe, And Other Metal Sheets.
Easily Attaches To Any Drill
This Double Headed Sheet Metal Nibbler Fits Effortlessly Into Any Standard Drill And Creates A Precision, Burr Edge, Making Cutting Jobs Easier, Faster, And Safer.
Safe And Durable
No contact with the saw blade or blades, and no injuries to hands. It is equipped with a robust metal gearhead designed for long life and durability.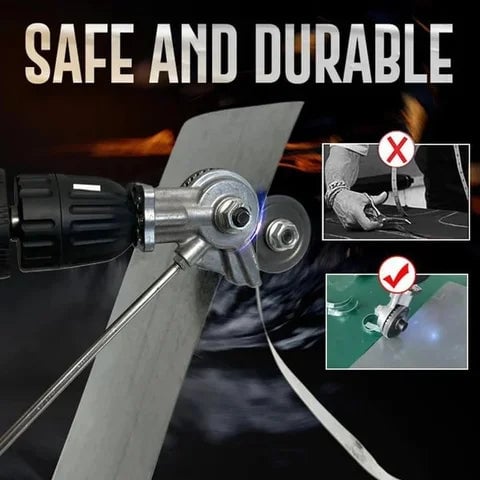 Cutting Capacity
Iron plate, Stainless steel plate ≤ 1.2mm
Copper, Aluminum alloy plate ≤ 1.8mm
Plastic plywood ≤ 2mm
Included
 1 X Metal Nibbler Drill Attachment&Tool Accessories